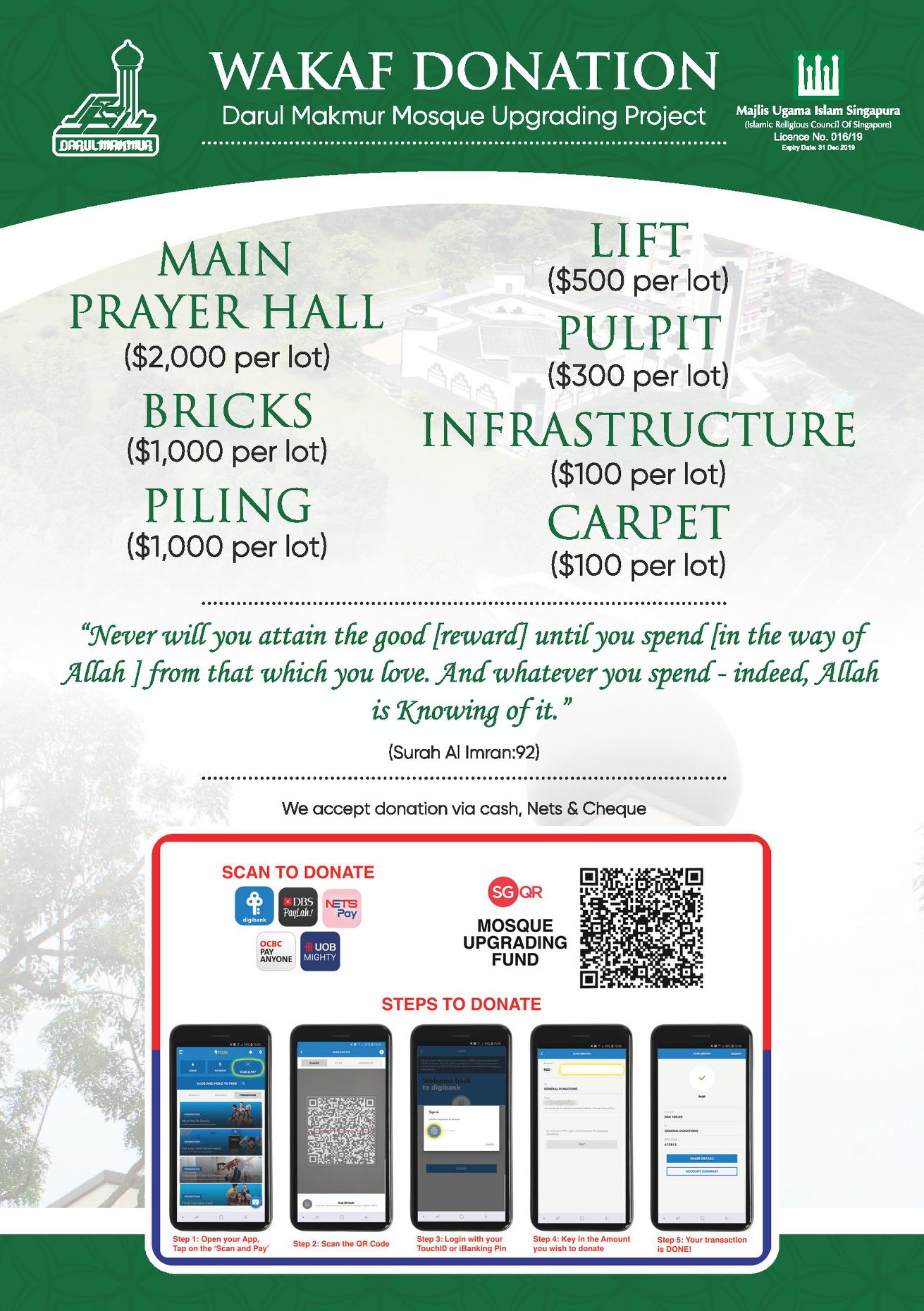 Darul Makmur Mosque will be going through Mosque Upgrading Project in last quarter of this year (2019), Insya Allah.. We welcome wakaf donation from everyone for the above items.
Donations may be done online through i-Banking or directly at our Congregant Services Counter through Cash and NETS.
For i-Banking, please deposit to OCBC Current Account 581-652138001.
For QR Code, please use your iBanking app to scan and pay.
For PayNow, please use our UEN S87MQ0033J.
Our Finance will require the following information:
Name(s) of Donor

Email

Contact

Address

Screenshot of the transaction

Details of Donation (Eg: Wakaf, Education, Infaq or Special Tabung…)

Details can be sent via:
WhatsApp/Telegram to 97894148,

FB/IG PM or
e-Receipt will be sent within 7 working days, Insya Allah..
Jazakumullah khairan!
……………………………………….
Masjid Darul Makmur akan menjalani Projek Peningkatan pada hujung tahun 2019 ini, Insya Allah. Kami menyeru kepada para jemaah untuk memberikan sumbangan derma wakaf bagi perkara diatas.
Derma boleh dibuat online melalui i-Banking atau Tunai/NETS di Kaunter Khidmat Jemaah kami.
Untuk i-Banking, sila derma ke Akaun OCBC Current 581-652138001.
Untuk QR Kod, sila gunakan iBanking App anda untuk mengimbas dan bayar.
Untuk PayNow, sila gunakan UEN kami S87MQ0033J
Pihak Finance kami akan perlu butiran berikut:
Nama (Nama-Nama) Penderma
Emel
Talipon
Alamat
Screenshot transaksi anda
Keterangan Derma (Eg: Tabung Wakaf, Education, Infaq atau Tabung Khas…)
Butiran boleh dihantar melalui:
WhatsApp/Telegram ke 97894148,
FB/IG PM atau
e-Receipt akan dihantar dalam jangkauan masa 7 hari, Insya Allah..
Jazakumullah khairan!