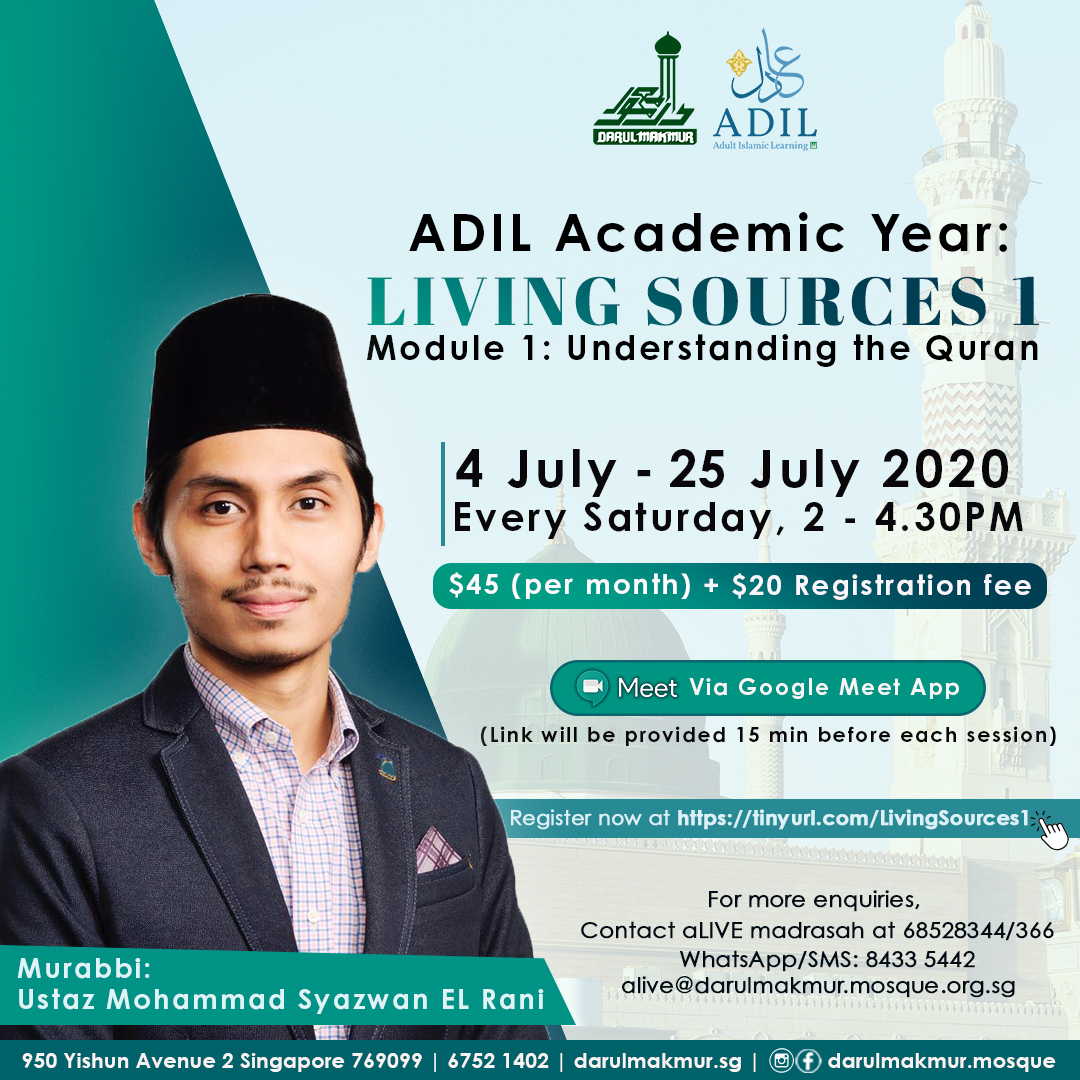 ADIL Academic Year: Living Sources 1
Al-Quran and As-Sunnah are the two everlasting legacies left by Prophet Muhammad s.a.w. in providing the eternal guidance to humanity. Through the study of the Al-Quran, students will be introduced on ways to appreciate the specialty of Al-Quran – the sacred words of Allah that are well preserved today and acknowledge the importance of As-Sunnah as the foundation of Islamic knowledge.
This module will cover the special position of Al-Quran as the enduring miracle of our beloved Rasulullah s.a.w and bring attention to understand critical understanding of the historical phases of the Quranic revelation and its compilation. Through the study of his As-Sunnah, students will be introduced to important terminologies in the categorization of Hadith literatures and study the various historical phases in the process of Hadith compilations.
Murabbi: Ustaz Mohammad Syazwan EL Rani
Date/Day: 4 July – 25 July 2020, Every Saturday
Fees will be $45 per month + $20 Registration
In this session, we will be covering the following:
– Introduction: Understanding Al-Quran and Its Revelation
– Understanding Miracles & Compilation of Al-Quran In The Era of Prophet Muhammad s.a.w
– Compilation of Quran In Post-Prophetic Era
– Understanding Revelation and The Categorization of Chapters (Surah) and Verses (Ayat )
– Categorization of Makkan and Madinan Verses & Reasons of Revelation (Asbab Nuzul)
– Major Themes of Al-Quran
– Interactions with Al-Quran