A social outreach platform for Darul Makmur Mosque to be socially and morally responsible, providing ethical and enriched public programs to bond with, assist and strive for the betterment of our Muslim community in the context of multicultural and multiracial society.
Facing daunting challenges such as poverty, ignorance and injustice, there is a dire need to reflect on the place of the social conscience in Islam in order to seek guidance; the Social Development Department provides the platform and programs for the seekers.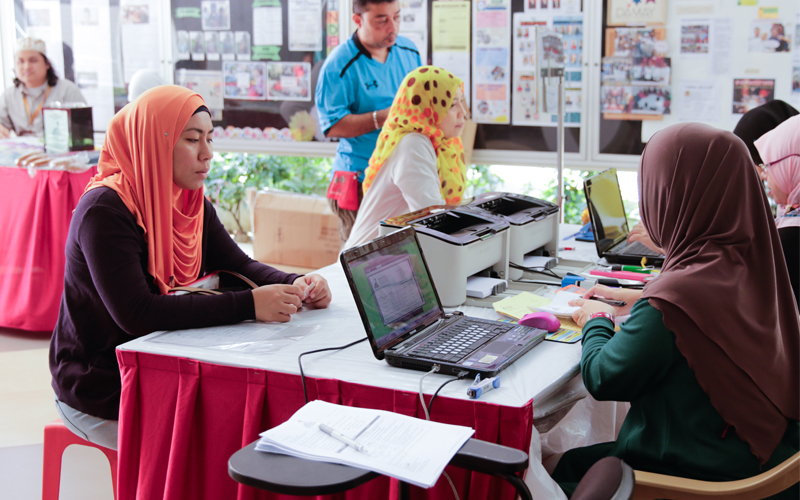 COMMUNITY ENGAGEMENT & VOLUNTEER UNIT
Managing the Youths, Muslimin volunteers and the Green Circle Club (GCC) is the main function of this unit, communicating and exercising Islamic and bonding programs and activities that engage these groups to instil a sense of belonging in the mosque.
DAMAY
DAMAY, acronym for Darul Makmur Youths, comprising of energetic, keen and innovative youth volunteers who play a big part in today's society. Working hand in hand with our YDO (Youth Development Officer) and CSO (Community Service Order) Helpers, DAMAY engages in fun and exciting talks and activities that instil Islamic beliefs and spirituality.
Using the latest trends, news and topics, Youths engage in thought-processing talks and discussions that revolve in understanding Islam within today's society.
Muslimin Volunteers
Our numerous Islamic events require massive manpower. At Darul Makmur, our Muslimin Volunteers assists us to accomplish the various events. Even on their day off work, they assist us whole-heartedly, providing us the support needed to make each event successful; namely for Korban and Ramadan events, our Volunteers bringsmiles to our congregants and happy faces in the mosque. Activities and programs engage them in meaningful bonding and camaraderie as brothers and family
GCC
The GCC is made up of a handful of Muslimin volunteers, keeps the Garden Terrace in beautiful colours. They have participated in the Community in Bloom Awards organised by NParks and had won several accolades since 2010.
Their efforts provides a comfortable place of relaxation, a shade of brilliance within the mosque premises and instilling a sense of natural, quiet tranquillity and spirituality from the wonders of our Creator.
Every Sunday morning, they congregate and have their weekly gardening and activities that instils family bonding and a sense of closeness to Nature.
To volunteer to be a member of the GCC, visit our General Office or contact the unit at 6752 8350.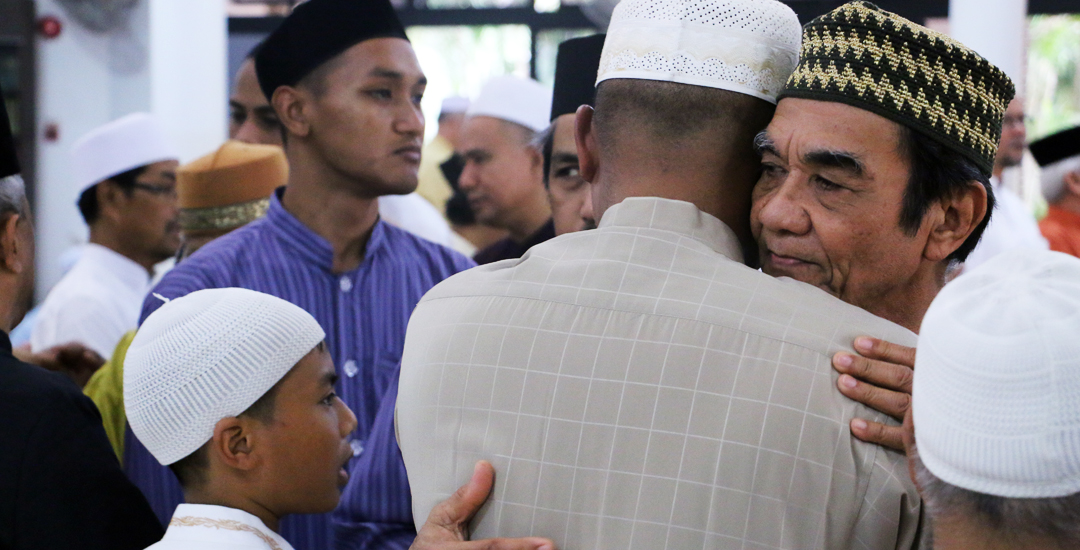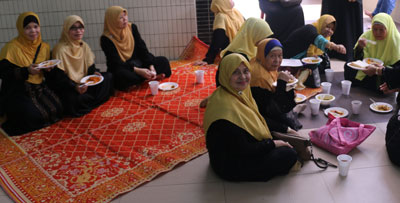 MUSLIMAH WING & COMMUNITY ENGAGEMENT UNIT
Engaging the community with Muslimah volunteers, and delivering religious sessions to instil deeper Islamic meaning in their lives, the main function of this unit is to manage the Muslimah Wing and provide religious classes specially for the Muslimah.
Muslimah
Our Muslimah Wing volunteer group comprises of ladies from as young as 30 years to the ripe age of 80 years. Bringing smiles and chatter to the mosque, they assist greatly in our events and our lady visitors during these events.
Activities like weekly exercise routines in collaboration with HPB (Health Promotion Board), attending religious classes and the occasional activities such as visits from other Women's Organisations, preparing porridge in packets during Ramadan and charity fairs, allows them to get socially engaged and connected to new developments. Lending a helping hand by ushering the other Muslimah Jemaah for mosque events, handling of food and a listening ear to one another, the Muslimah Wing provides a haven for Muslimahs to come together and seek asylum through Islamic teachings and connect with one another.
Community Engagement
We provide engagements for the Muslimah groups like Khatam Al-Quran, weekly classes for Fiqh Wanita and Kuliah Keluarga to instil a deeper sense of Islamic values and enhance the spirituality of Iman.
One-to-one counselling sessions are also available:
Tuesdays (2 – 5pm) & Thursdays (10am – 12pm) by appointment booking only
Wednesdays and Fridays : 9am – 5pm @ 6852 8350 (By telephone only)
Find Us At
Masjid Darul Makmur
950 Yishun Ave 2
Singapore 769099
---
Contact Us Via
Email: korporat@darulmakmur.mosque.org.sg
Phone: +65 6752 1402